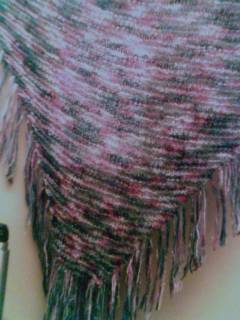 My shawl



This is one of the first shawls I knit. I used a very pretty Cherry Hill Wool blend with a bit of glitter. I think the colorway was called Spanish Moss if I remember correctly and it was knit on size 17 needles.

I made up this simple pattern myself which you can use any weight yarn, with any size needle (the larger the needle the more lacy and open the pattern). It's also just straight knitting (garter stitch). Basically you start with an odd number of stitches, I started with 3 here. then you just increase one stitch at the beginning of each row until you either run out of yarn or think it's big enough. And if you like fringe be sure to save enough yarn for the fringe. You could even crochet an edge if you like. I get more compliments on this shawl too.

The photo does not show the color well, I really need to get that digital camera out and replace all the photos in this blog soon. So far I've just been using my Palm Pilot with no flash.