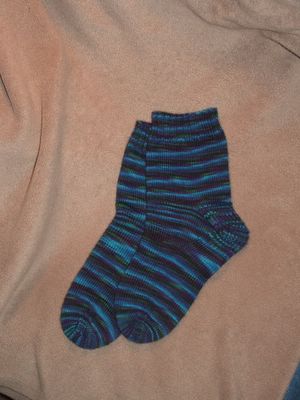 These are my latest socks - the yarn was handpainted by my sister.

I can't believe I finished these so fast - well fast for me. I'm really getting the hang of the Queen's technique and this time I felt really comfortable modifying the stitch counts and the fit is fantastic! I really love doing both toe up socks at the same time on the 2 addi turbo circulars (size 1s). This time I also tried the slip stitch heel starting about half way into the gusset increases and they are really comfortable.
As I mentioned in an earlier post - the yarn is a lovely merino (I think - I'll have to check again with my sister) that was hand-dyed. It's more of a DK weight so they are thick and warm :) Which is really nice for the cold winter we are having here in New England.