Next Project?
Ok, so maybe I got up on my high horse yesterday, but it was something that need to be said. We just need to be kinder to each other.

I forgot to add my obligatory knitting so here ya go. I'm heading down the home stretch of my clapotis, into the decrease rows. I'm not sure it's going to be long enough... but I am hoping that once it's blocked it will be. (keep your toes and fingers crossed).

So since I'm getting close to finishing this project, it's time to start thinking about the next one right? I have some socks, but now that the weather is starting to warm up a bit, I think I want to do something other than socks, scarves or shawls. This is what I found on White Lies Designs, isn't it pretty? I just ordered the pattern. I love her designs - especially for larger sizes.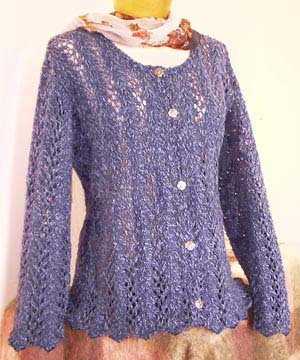 Pretty?